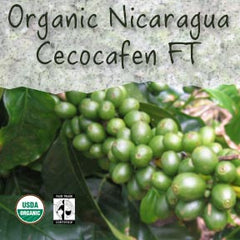 Unroasted Nicaragua Ceocafen Organic Coffee Bean
Green Unroasted Coffee Beans
For those of you looking to roast at home, take a look at our green, unroasted coffee beans. Whether you are a an experienced roaster or just starting out, take a look at our bulk green coffee beans.
Organic Nicaragua Ceocafen Fair Trade Coffee
Nicaragua is making a come back in the coffee world and is not producing the beautiful tasting coffees. These are no different and come from the Ceocafen cooperative. This cooperative is dedicated to using ecological farming practices as well as helping the 2,600 active members through its fair trade program.
The Bean
Grown between 4 thousand and 5 thousand feet these high grown coffees are then medium roasted to bring out their best flavors.
Taste
A typical Nicaraguan coffee has a medium to full body yet surprisingly mild acidity. A mild, yet fruity brightness will bring out sensations of papaya, apricot and chocolate versus more citrus and floral sensations.