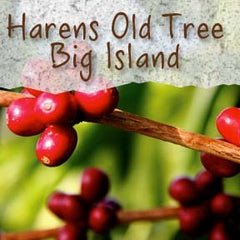 Haren's Old Tree Kona Estate Coffee
This product is temporarily unavailable
Update November 2021: To fans and customers alike, I regret to inform you that Duane passed away after a long battle with cancer. His son informed us that he will not be continuing this business. Thank you to all of you who ordered through me over the years. I unfortunately do not have a replacement Kona but do have a bundle linked below that will allow you to try several single origin coffees that may be to your liking.
Update 2021: The farmer is still not roasting yet. I will update this in 2021 when roasting starts again.
Update: 11/6/2020: Hi Coffee fans. Unfortunately due to unforeseen circumstances, we have had to temporarily stop roasting and shipping Haren's Old Tree Estate until further notice. If it becomes available again I will email anyone that has bought in the past. While it will never replace his wonderful coffee, I have put together a bundle of 4 island coffees that you should try. I have priced it the same as Haren's but you get 4 pounds instead of 2. You can see the product here:

https://toydogcoffee.com/products/harens-old-tree-replacement-bundle
At the request of the farm, we have changed the order sizes to two 1LB bags.

About the Kona Coffee Farm
This 5.4 acre farm is located in the Kona growing region of Hawaii.  The farm sits between 1313 and 1467 feet above sea level in Honaunau (South Kona).  The proprieter, Dwayne Haren, was a sommelier with many fine restaurants in Hawaii, and has applied his refined palet to growing and roasting coffee.  All of his coffees are meticulously farmed, hand picked, milled, sundried, stored, green milled, roasted and bagged at the Estate.
Farmers Comments about the Beans
"It is my strong belief that a 'Single Estate Coffee' should be a reflection of the beans from the total harvest.  So, Haren's Old Tree Estate offers all the primary bean sizes in each bag.  This includes Extra Fancy, Fancy, #1 and also the Peaberry."
About the Coffee Trees
The majority of these noble old trees were planted in the late 1800's.  Over the past century these trees have seen everything Mother Nature has to offer and are still as happy and productive as they ever were.
Farmers Comments about the Roast
It is my humble opinion that a "Full City / Medium Dark" roast is the roast style to best showcase the unique character of a quality Single Estate Kona Coffee. It optimizes the rich flavors, out standing aroma, delicate acidity and best compliments both "Origin Character" and "Roast Character". To lite a roast does not allow the oils and sugars in the bean to properly develop and to dark a roast burns these oils and sugars out of the bean. Also remember, the lighter the roast the more caffeine / the darker the roast the less caffeine. Harens Old Tree Estate is the perfect coffee to start the day or compliment any dessert. Especially for the chocolate lovers.
For the wine lovers of the world, this is one coffee recommended by Master Sommelier Chuck Furuya and is the daily coffee for him and his wife!
Haren's roasts their coffee on Wednesdays so there is a slight delay between order and delivery.