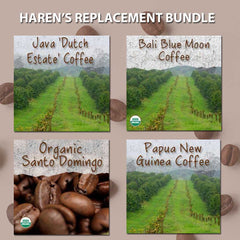 Haren's Old Tree Replacement Bundle
To all the fans of Haren's Old Tree Estate Kona Coffee. Duane Haren passed away at the end of 2021 after a quite long battle with cancer. His son informed us he would not be continuing the coffee business. 
And while we are all disappointed I did want to offer a bundle of 4 distinct Island coffees to substitute for the wonderful coffee Duane Haren provided.

The bundle includes four distinct island coffees. They will include coffees from the islands of Java, Bali, Dominican Republic, and Papau New Guinea. All of these will come in 1 pound bags, roasted to order.

Taste Profiles
Java Dutch Estate:
You will find Java Dutch Estate's finest golden beans are roasted to yield a piquant aroma. Dutch Estates wet-processed beans displays an exquisite acid balance, a heavy body with hints of chocolate-like undertones with a quicker finish than Sumatran coffee and it promises a sweet overall impression. Grown in volcanic soil at about 4500 feet, these beans offer a very distinctive flavor.
Bali Blue Moon (Out of stock - Replaced with Timor)
A typical island coffee, this organic coffee provides a smooth body with strong chocolatey overtones and hints of syrup and vanilla.
Organic Timor
A shade grown coffee from the Cooperativa Cafe Timor, this coffee is spicy and herbal, with a vibrant acidity (yet not over powering and a full body.
Dominican Republic
This Dominican Republic 'Santo Domingo' coffee displays a well-balanced complexity and uniformity with a rich full taste, medium body and pleasant acidity. You will find these "special beans" brew up a fine gourmet Caribbean coffee.
Papau New Guinea
Papa New Guinea coffee has a mild, medium body, a sweet acidic flavor and beautiful fruity overtones.  Many of the fruit overtones are imparted by Albizza berries that are used in the production of the coffee.
Pricing:
I have priced these four coffees at the same price as two pounds of Haren's Old Tree Estate. Plus I have put these in the system as "1LB" so you will only be charged the lowest shipping rate.