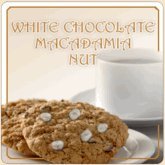 White Chocolate Macadamia Nut Flavored Coffee
The flavor of sweet macadamia nuts and the richness of white chocolate that this coffee provides are the perfect complements to a quality cup of coffee, which is why this White Chocolate Macadamia Nut flavored coffee excels in flavor.

Enjoy that same delectable taste with this flavored coffee! At Toy Dog Coffee, we understand how the aroma of a dessert or a candy can transcend you to another place and time, and how sipping that flavor in our flavored coffee can drum up all sorts of warm happy feelings. White Chocolate Macadamia Nut flavored coffee is roasted and flavored to transcend you right into that happy place!

Did you know that macadamia nuts signify the newest nut crops cultivated in the world? They were first refined in Australia in 1858. Today, Hawaii is the largest producer of macadamia nuts. The trees they grown on can be found in rainforests—what we all know as some of the most breathtakingly beautiful places on earth.

Macadamias are considered a gourmet delicacy. Pair the taste of that delicacy with the flavor of white chocolate, and you have sunshine on a cloudy day! Let our White Chocolate Macadamia Nut flavored coffee brighten your morning, afternoon, or night. We are sure it will put a smile on your face.