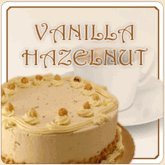 Vanilla Hazelnut Flavored Coffee
A blend of the flavors of toasted hazelnuts and vanilla creates this rich Vanilla Hazelnut flavored coffee. A perfect dessert coffee or a perfect anytime coffee – you pick!

Hazelnuts have always been noted for their upscale appeal and scrumptious flavor and now you can partake in that tasty goodness anytime of the day. Their excellent taste gave them popularity, and now people are on the hunt for anything to satisfy that craving for amazing hazelnut flavor.

You can have it all with the savory flavor of hazelnuts mixed with the sweetness of vanilla in Toy Dog Coffee's Vanilla Hazelnut flavored coffee. It's a taste you will want to take with you everywhere you go. This extraordinary coffee blend is sure to give you the great taste you crave.