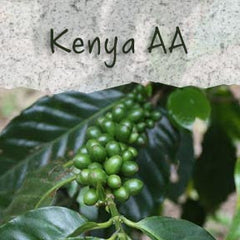 Unroasted Kenya AA Coffee Beans
Green Unroasted Coffee Beans
For those of you looking to roast at home, take a look at our green, unroasted coffee beans. Whether you are a an experienced roaster or just starting out, take a look at our bulk green coffee beans.
Kenya AA Coffee
Nearing the top of list of the world's finest Arabica coffees is Kenya "AA". What is the "AA" you wonder? The Coffee Board of Kenya realizes the quality of coffee they are capable of making and they have strict guidelines in place to grow the best beans possible. The "AA" denotes the size, shape and density of the bean. The grading scale from largest to smallest is AA, AB, PB, C, E, TT and T. It is a well-known fact that the largest, "AA", bean is going to produce more of the treasured oils that give your coffee the fabulous aroma and intense flavor.

The Coffee Board also works in conjunction with the small farms, using cooperative milling and marketing, to make sure that they produce high volumes of quality coffee from the estimated six million Kenyans that work within the coffee industry. Even small lot farmers, most lots being half an acre, are usually highly educated in agriculture.

The coffee Board generously rewards these farmers for producing first-rate coffee, bringing a sense of pride and heated competition within the ranks, and at the weekly auctions at The Coffee Plaza held on Haile Selassie Avenue in Nairobi.

Kenya has rich, red volcanic soil and coffee is grown at altitudes of 4900 to 6800 feet above sea level. Plateaus where the coffee is grown surround the now extinct Mount Kenya, and they produce about 2 million bags of coffee per year. Kenyans have been growing coffee there since the end of the 19th century when Missionaries came with seedlings. This is kind of surprising considering how close Kenya is to Ethiopia, where coffee plants originated and they have been cultivating there for centuries.
Processing
Kenya AA Arabica beans are almost all wet-processed meaning that the cherry's outer layer is stripped off with a machine and then the beans are placed into a water tank. While in the fermentation tank, the beans natural enzymes loosen the sticky residue left on the bean. When laid out to dry, the last layer, parchment, is easily removed from the bean with a huller.  Nothing here in Kenya is left to chance. Research and development is top-notch. Coffee is painstakingly prepared using proven methods and advanced equipment. Kenya has a reputation of absolute excellence in coffee production.
Taste
You will find Kenya AA Coffee to have full body, delicate acidity with a smooth wine-like flavor. It presents a gentle floral fragrant aroma with overtones of berries and citrus.