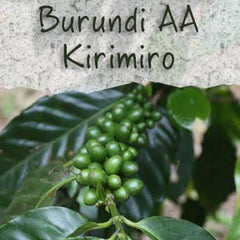 Unroasted Burundi AA Kirimiro Coffee Bean
Green Unroasted Coffee Beans
For those of you looking to roast at home, take a look at our green, unroasted coffee beans. Whether you are a an experienced roaster or just starting out, take a look at our bulk green coffee beans.
Burundi AA Kirimiro Coffee
Burundi (Land of a Thousand Hills) is a landlocked country in the African Great Lakes Region. A worn torn region, Burundi is bordered by Rwanda, Tanzania and the Democratic Republic of the Congo. Though a poor country and only recently finding stability in the last 10 years, Burundi still grows a coffee which represents 93% of Burundi's exports.
The Bean
Grown at over 1,500 feet above sea level, Burundi only grows Arabic beans, many of the Bourbon variety. We roast these at a lighter roast to preserve and enhance the floral flavors so common in African Coffees. AA means you are only getting the best bean for your roast.
Taste
This coffee will had a heavier mouthfeel than many african coffees. Our roast highlights the flavors of Lemon, black tea and just a hint of spiced cloves. Your sip will finish off with a sweet nutty finish. Try it without sugar first so you can taste the natural sweetness.