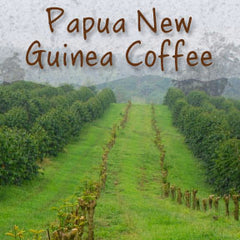 Papa New Guinea Coffee
Papa New Guinea Coffee
Grown on 350 acres that run along the Wahgi river, these beans share many of the same characteristics as Jamaican Blue Mountain coffee. The plantation harvests the crop multiple times between April and September. This huge plantation follows strict agricultural guidelines to ensure protection of the environment. In addition to all this, the plantation provides great worker benefits including free medical care and education.
Unique Flavor
Papa New Guinea coffee has a mild, medium body, a sweet acidic flavor and beautiful fruity overtones. Many of the fruit overtones are imparted by Albizza berries that are used in the production of the coffee. Discovered in 1933, the berries were used by arab cultures.
Roast
This medium roast coffee is not roasted till you order ensuring the freshest coffee you can buy.