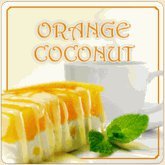 Orange Coconut Flavored Coffee
The juicy, sweet taste of orange essence and nutty coconut flavoring in this refreshing flavor combination merges with our fresh roasted coffee to give you an unbelievably flavorful coffee drink. So put on those shades for an incredible sunny treat!

Orange Coconut flavored coffee will brighten up your day and make your taste buds sing! There's nothing better than a burst of sun kissed orange flavors heightened by the fragrance of toasted coconut to put you in a sun-drenched island mood.