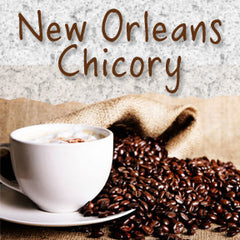 New Orleans Chicory Blend
New Orleans Chicory Blend

New Orleans, rich in history and tradition, is unlike anywhere else in the world, and its coffee is no exception. Within the city, coffee flavored with chicory is a standard practice, and for those of us who visit the city, we are always sure to take some home when we leave. No longer do we have to travel all the way to New Orleans to get that same great flavor. CoffeeAM's New Orleans Chicory blend will be shipped right to your front door.

Coffee got its start in America through the ports of New Orleans, so the city has been drinking it longer than any other state in the country. During Civil war times, rations were low and the city was under blockade, the soldiers were desperate to stretch their ration of coffee. The French residents soon added their native, ground chicory root to the blend finding it not only stretched the ration, but added body and an almost chocolate flavor. When rations finally picked up again, there was no going back. They had discovered something they liked better than plain coffee and a new tradition was born. This is still one of the most influential French customs in Louisiana today.

The richness of our Colombian coffee is blended with dark velvety French roast and chicory. This is a true New Orleans tradition, one that has now reached as far as Belgium and Madras, where you find they too are enjoying their coffee laced with ground root of chicory.

Because of the Chicory added, we only offer this in a medium grind coffee.