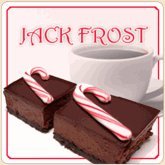 Jack Frost Flavored Coffee
With the flavors of Irish Cream, Swiss Chocolate, and a pinch of Peppermint, this Jack Frost coffee blend will evoke the feeling of being surrounded by a blanket of dazzling white snow amidst a forest of frosted pine trees. The smell and taste of peppermint will give you a cooling sensation that will ease your tired soul and relax your mind. Let the creamy, milky flavors of Swiss chocolate remind you of the white peaks of Switzerland in our fresh batch of roasted gourmet coffee. Indulge in this Jack Frost treat!

Relieve your everyday tension and escape into the wild winter wonderland of our yummy Jack Frost flavored coffee.