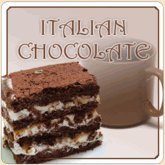 Italian Chocolate Flavored Coffee
We combined the flavors of creamy Swiss chocolate and toasted almonds with just a hint of cinnamon for a taste you can't resist in this Italian Chocolate flavored coffee.

Switzerland may hold the title of Europe's chocolate capital, but four centuries ago, it was Turin, Italy that held the title. In fact, during this time, Swiss Chocolatiers came to Turin to develop their craft and then exported the chocolates back to Switzerland.

As a way to tie the historical influences of fine chocolate production, we've decided to use the flavors of European Chocolate of the highest quality for our coffee and called it Italian Chocolate flavored coffee.

In Italy, chocolate and coffee is an affair of love. You will fall for the incredible flavors of Swiss chocolate, roasted coffee, smoky almonds, and cinnamon spice. It will warm you up, and we promise you'll fall head over heels for our Italian Chocolate flavored coffee!