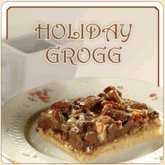 Holiday Grogg Flavored Coffee
May the music of bagpipes set the tone, and the hanging of holly, and a bit of shortbread on the side to get you in the festive mood. So whip out the tartan ribbons...you're now ready for a unique holiday treat! To get you in the Scottish holiday spirit we combine the flavors of Scottish Grogg with roasted pecans and cinnamon flavors.

A cup of our non alcoholic Holiday Grogg flavored coffee will simulate the experience of walking into a traditional Scottish home during the holidays. The moment a guest enters, they are immediately captivated by the sweet smelling scent of cinnamon candles, and the sight of pecans roasting over a log wood fire. This is precisely what our coffee offers you, the sweet scent of cinnamon and taste of roasted pecans. With a bit of Scottish brandy aroma- the coffee wouldn't be Scottish otherwise- and a dash of spicy flavors to warm you up, this fine roasted coffee blend will offer you a jolly good time! So welcome yourself to the coffee brew of the Scots!