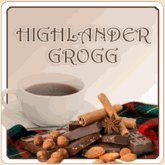 Highlander Grogg Flavored Coffee
We dare you to venture into the tempting flavors of Scottish Brandy with the buttery and spicy flavors in our blend of Highlander Grogg flavored coffee.
With the rustic, assertive character and aroma of Scottish Brandy flavors, you'll be certain to experience the raw and fiery spirit of the Scottish Highlands. Home of wild rugged mountains, ragged peaks, and high winds, this land is an adventurer's paradise.
There will be a huge expansive sky above you and grassy foothills below your feet, surrounded with gushing rivers and daring waterfalls for you to behold. Venture into the unruly flavors of this full-bodied coffee blend. With its bold flavors of brandy, a sassy bit of spice, and smooth flavors of butter to finish off, this non-alcoholic flavored coffee will definitely offer you a rousing good time