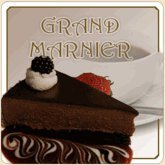 Grand Marnier Flavored Coffee
Grand Marnier flavored coffee is a coffee brew of sweet citrus and rich cognac flavors. One sip of this coffee blend and you'll see why this timeless flavor is so highly prized throughout the world.
Grand Marnier was created by Louis-Alexandre Marnier Lapostolle in 1880. This blend of liqueur consists of cognac and a specific variety of oranges found in the Caribbean. These oranges are usually bitter in taste but have a very intense aroma; that same aroma makes a perfect addition to our coffee.
In the 1900's, Chef Escoffier produced Grand Marnier soufflé and eventually made it famous around the world. Today, it is still considered as a masterpiece of French Cuisine. At the start of the 20th century, people began to widely view Grand Marnier as a quintessential drink at the end of an elegant meal. Known as one of the world's finest liqueurs, it was actually stocked on board the infamous Titanic ocean liner. A bottle of it was found among the wreckage and is now placed at the Titanic Museum.
As one of our favorite coffees, the Grand Marnier flavored coffee will certainly win you over as well. So pamper yourself in this luxurious and refined coffee drink made from the finest coffee beans available and the highest quality of natural flavorings. This flavored coffee contains no alcohol, so go ahead with that second cup!