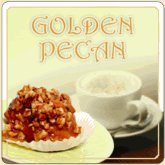 Golden Pecan Flavored Coffee
Golden Pecan flavored coffee offers a slight hint of sweet pecan flavor in our 100% Arabica premium coffee blend.
The flavor of pecans is especially inherent in the South. Pecans are found in almost every variety of Southern deserts imaginable such as pralines, pies, cakes, and ice cream. Fortunately for you, this flavor is also found in our premium blend of freshly roasted coffee.
When taking a sip of this fine coffee, may the tranquility of the South with its golden sunshine and cool breezes, calm your everyday hectic schedule. On the way to the grocery store or to an office meeting, take a breather from it all with our Golden Pecan flavored coffee.
We encourage you to take part in true southern tradition and enjoy some Golden Pecan flavored coffee, remember that southern hospitality and offer some to your neighbors!