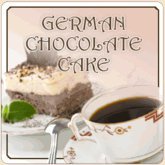 German Chocolate Cake Flavored Coffee
Craving the flavors of rich, decadent chocolate cake with a crunchy caramel-vanilla glaze of roasted pecans and shredded coconut? If so, then we've got a perfect 2-calorie version just for you in our German Chocolate Cake flavored coffee. Layers upon layers of dark chocolate cake filled with caramel swirls of toasted coconut pieces and roasted pecans slathered with a thick coating of dense chocolate frosting would be one way to describe this supremely rich chocolate cake. As an homage to a traditional favorite, we created the most ideal version of this flavor into our gourmet coffee blend.
Even though it's called German Chocolate Cake, it was not invented in Germany. The cake recipe was actually created by an American homemaker who sent it in to a local newspaper in 1957. The recipe called for Baker's German's Sweet Chocolate, which was developed by an Englishmen, Samuel German, in 1852 and that was how the name got started.
So kick back, relax, and revel in the good old-fashioned flavor of German Chocolate Cake with a pot of our flavored coffee brew.