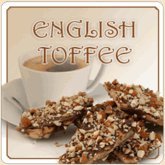 English Toffee Flavored Coffee
A traditional English delight! The sweet and tempting flavors of English Toffee flavored coffee creates a refined cup of coffee that goes down smooth with a rich and sensational taste. We tip our hat to our carefully crafted, well-balanced blend of English Toffee flavored coffee. You will be delighted with each savory sip.
Whatever your reason for wanting an English Toffee flavored coffee, you will not have to settle for anything less than gourmet flavored coffee, which happens to have a soft, sweet flavor that will make any taste buds crave English Toffee. With only 2 calories per cup, you can't go wrong with this deliciously toasty and warm treat. Dripping with rich flavor, you will feel like you're strolling along the Thames River in London with a warm cup of coffee to your lips!