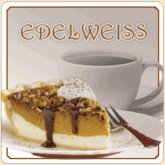 Edelweiss Flavored Coffee
Edelweiss flavored coffee is a flavor concoction of creamy pralines, roasted Swiss almonds, and Mexican liqueur.
Edelweiss is a highly regarded and precious flower of Europe. It can be found on coins, as a logo, an emblem, a rank insignia, and on many other objects and organizations.
We feel that the flavors of this exquisite and distinctive coffee blend are certainly worthy of the name Edelweiss flavored coffee. It's not hard to see why, since this flavored coffee has the well- beloved flavors of pralines, which originated in France, of dry roasted almonds from Switzerland, and to make this coffee blend even more sensational, we added a touch of Mexican liqueur. Each country has something unique and distinctive to offer this exceptional flavored coffee recipe.
Savor the flavor sensation of roasted pecans wrapped in a mixture of cream and caramelized sugar, enhanced by the sugary smokiness of Swiss almonds, and the musky and fruity aroma of Mexican liqueur. One sip of this robust Edelweiss flavored coffee will show you why it's worthy of its name.