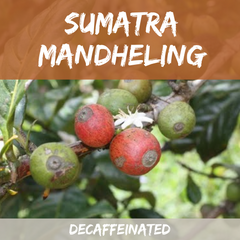 Decaf Sumatra Mandheling Coffee
DECAF SUMATRA MANDHELING COFFEE
This coffee uses the Swiss Water process to remove the Caffeine from the beans.
This coffee comes from the Batak region of West Central Sumatra. The coffee is named after the Mandailing people, an ethnic group from the region. Most of the coffee is grown between 2500 and 5000 feet above sea level.
This coffee is a wet hulled coffee that is then roasted to a medium roast. Roasting at this levels maintains the prominent spice flavors with a full body and lower acidity. This coffee can be both sweet and earthy at the same time.
This is a great coffee for every day drinking but also works well as a cold brew. If you use milk or cream this coffee maintains its flavors even after you add those. For pour over, try a mesh filter to maintain the oils.
And with the caffeine removed, an easy way to enjoy a tasty coffee without it affecting your sleep.