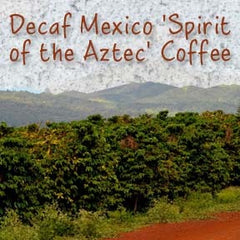 Decaf Mexico Spirit of the Aztec Coffee
Mexico 'Spirit of the Aztec' Coffee
Gabriel Mathiew de Clieu, a French Naval Officer, played the most vital role in the intriguing history of Mexican coffee. De Clieu managed to acquire a descendant of a coffee tree given to King Louis XIV of France, and he made it his duty to take the tree to his estate on Martinique. This miraculous tree survived Tunisian pirates, violent storms, dangerously covetous passengers, and a deficit of fresh water. De Clieu even went as far as sharing his very own water ration with the protected plant. It arrived safely in Martinique and while under 24 hour surveillance, including its own armed guard, it grew and flourished in the tropical environment, supplying seed directly and indirectly to all countries of the Americas - including Mexico.

About the Coffee
Mexico's "Spirit of the Aztec" coffee is "Altura Pluma," which means high grown and designates the finest coffee of Mexico. In order to qualify for "excellence" which is labeled Altura, the coffee must be grown at least 4,000 feet high. Coatepec, called the capital of coffee in Mexico, is located in Veracruz.

Coatepec supplies what are considered to be exceptional coffee beans. The name Coatepec comes from the Nahuatl Aztec language "coatl" (serpent) and "tepetl" (hill), and translates to, "The Hill where the Snakes are."

Taste
Discover the exceptional Mexico "Spirit of the Aztec" coffee with its medium body, fine acidity, and a savory flavor that is mild and sweet with a wonderful bouquet. Get ready to experience the wonders of Mexican coffee.