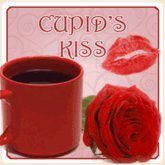 Cupid's Kiss Flavored Coffee
Be delighted in the enchanting kiss of Cupid with each sip of this sweet coffee blend. This roasted coffee is aromatic with the buttery burnt sugar taste of French caramel, the creaminess and richness of quality Swiss chocolate, and roasted Southern Pecans. The union of flavors in Cupid's Kiss coffee will give you a heavenly experience you will easily love. This irresistible coffee blend will surely make you fall for its tempting flavors.
Let the sweet aroma romance your senses, and the delicious taste flirt with your palate. May the sweet and yummy feel of our Cupid's Kiss forever bring pleasure to your lips.