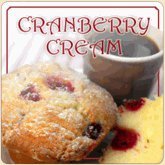 Cranberry Cream Flavored Coffee
Cranberry Cream flavored coffee has the sweet tangy flavor of fresh-ripened Oregon cranberries complemented by the subtle airiness of cream which makes for a delightful combination. This combination is brilliantly conceived. Cranberry Cream can be found in many dessert recipes such as pies, tarts, and sour cream bars for that added zest appeal.
When you have to serve something special, treat this freshly roasted flavored brew as a zesty dessert coffee, for an indescribable after dinner experience. It'll be sure to win over any special cravings without the added calories!