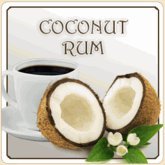 Coconut Rum Flavored Coffee
This delightful combination of fresh, sweet coconut and the essence of Jamaican rum infused into the gourmet Arabica coffee beans make our delightful Coconut Rum flavored coffee unforgettable. With no alcohol and only 2 little calories per cup, we offer you a guilt-free and exotic taste of the tropics!
Pleasantly sweetened coconut and rum flavoring add something incredibly special and appealing to your coffee cup providing you with an instant escape to a tropical paradise. The combination of coconut and rum will transport you to a far away island where you can feel the cool breeze and relish in sheer bliss. You'll be able to savor the moment while you inhale the sweet aroma and flavorful, smooth texture. Feel your stress melt away as you sip our warm gourmet coffee.