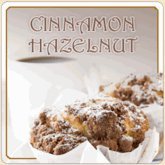 Cinnamon Hazelnut Flavored Coffee
A dash of cinnamon spice with the fragrant aroma and creamy taste of roasted hazelnut is a moment to remember. It will be sure to remind you of holidays, but why not treat yourself to this smoky and rich taste of this flavored coffee all the time?
Cinnamon has been used to perk up many foods and drinks to give an exotic and special taste to things such as toast, cakes, ice cream, and warm beverages.
Now, in our Cinnamon Hazelnut flavored coffee, you can find the essence cinnamon added to an already perfect flavor of hazelnut.
This marvelous coffee blend will surely please and satisfy any craving. This exceptionally smooth, warm and toasty flavored coffee from Toy Dog Coffee is a real gourmet treat that will stir your soul.