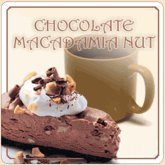 Chocolate Macadamian Nut Flavored Coffee
Just like opening up a box of gourmet chocolates, this Chocolate Macadamia Nut flavored coffee will excite and satisfy you with its tempting, irresistible flavor. Deeply rich chocolate and nutty overtones of macadamias are enriched with a touch of French silk cream. What an incredible fusion of flavors!
Macadamia nuts are indigenous to Queensland, Australia. However, they can now be found growing in California, Hawaii, South Africa, and Central America. His colleague, botanist Ferdinand von Mueller, who first analyzed them, names these nuts after John Macadam. Other common names of these nuts include Queensland nut, Bush nut, and Queen of nuts. In Australia, they are called gyndl, jindilli, and bombera. At Toy Dog Coffee we call them yummy!
Australians are known to take pleasure in life and the enjoyment of the great outdoors. So take a time-out on your porch or balcony to enjoy and delight in this pleasurable treat of chocolate flavored coffee with the melt-in-your-mouth creamy, buttery taste of macadamia nuts. With just a subtle hint of French Silk cream essence added to further create a soothing and relaxing atmosphere, you might just have to go for another coffee break! And why not? This guiltless pleasure has just two calories!