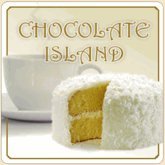 Chocolate Island Flavored Coffee
This Chocolate Island flavored coffee contains the essence of white chocolate mousse, Swiss chocolate, and nutty coconut. We probably don't need to say any more...but we will!
This coffee will offer you the taste sensation of melted white chocolate chips folded into a cool cloud of vanilla and cream that has been whipped to perfection. It's utterly a dream in white. To top this off, we add delicious Swiss chocolate.
The name sounds sinful, but don't let that discourage you. There is no hydrogenated vegetable oil or animal fat here! Chocolate Island flavored coffee has the aroma of the real Swiss chocolate in addition to the subtle buttery and sweet taste of white chocolate flavoring. Guess what that equals? Two calories.
Why not immerse yourself with a refreshing taste of sweet coconut infused with silky smooth Swiss chocolate and creamy white chocolate. The exotic island feel of this coffee brew will certainly melt your troubles away.