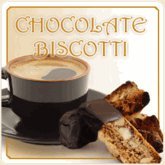 Chocolate Dipped Almond Biscotti Flavored Coffee
Enjoy the essence of this Chocolate-Dipped Almond Biscotti flavored gourmet coffee! Enjoy all the flavor and aroma of the old world Italian cookie as easily as making a pot of fresh coffee.
We start with Arabica bean coffee freshly roasted; we then add the buttery almond flavor to accentuate the delicately sweet goodness found in freshly homemade biscotti. The cup is then topped off with a drizzle of chocolate essence to acquaint you with all of the flavors found in real biscotti! Everyone who loves biscotti knows that nothing goes better with its sweet cookie taste than gourmet coffee. Celebrate the marriage of these two flavors with our newest flavored coffee Chocolate Dipped Almond Biscotti.