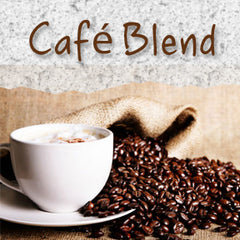 Cafe Blend
Cafe Blend

Our Café Blend brings to mind open air, sidewalk cafes with a sea of parasols open to shade the customers who are relaxing with friends or maybe with just a book. There is something about the ambiance of a side walk café that makes you want to sit and rest while the world around you rushes past. Any anxious thoughts you may have had, seem to take a back seat to the focus you now have on the intoxicating aromas, the smoothness of the blend and the finish the coffee surprises you with. This is where we expect our Café Blend will take you.

You do not have to travel to Paris or anywhere else to enjoy the atmosphere of a sidewalk café. The idea behind CoffeeAM's Café Blend is based on you finding your own comfortable resting spot that can be made into your own personal observatory. Bring your Café Blend onto the front stoop, sip slowly and watch the hurried people go by. Enjoy a nice hot cup while sitting under shady tree in a newly planted garden and take in the beauty of the spring blossoms. Take a to-go cup while you leisurely walk the dog and really absorb the sites and sounds of your neighborhood. That's what it is all about, isn't it? Allow CoffeeAM's Café blend to inspire your senses.

Café blend was created from Central and South American coffees blended with French Roasted Brazilian Santos. This blend has a great aroma and lingering finish. The Central and South American qualities add a wonderful depth and the French Roasting gives it that bittersweet taste that makes it exceptional. This coffee was developed by our Roastmaster to wake up your senses and to encourage you to savor and appreciate from aroma to finish. Enjoy our Café Blend and get inspired!