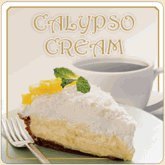 Calypso Cream Flavored Coffee
Coconut Rum (Calypso Cream) flavored coffee contains the flavors of fresh coconut and Jamaican rum. The vibrant and lively flavors of this coffee blend will provide you with a blissful carefree spirit. The island beats and welcoming tides will be all that comes to mind while you enjoy this inspiring coconut rum coffee. We attempt to capture the spirited atmosphere of Jamaica by adding a splash of cool and refreshing taste of coconut to the distinctive, complex, and rich Jamaican rum flavors.

So, as Bob Marley said, experience the "positive vibrations of this island nation" as you savor each sip of this festive Coconut Rum Calypso Cream blend.