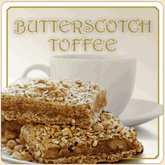 Butterscotch Toffee Cream Flavored Coffee
Butterscotch is an old favorite in the era of hot rods, poodle skirts, and soda fountains. It was once considered an out-of-date candy flavor but is once again in vogue. Butterscotch is a hard candy made with brown sugar and butter. The term "scotch" means "to cut," which refers to the process of cutting the candy mixture while it is still hot.

Toffee is also a hard candy made with sugar and butter. What distinguishes the two is the temperature at which each candy mixture is heated. Butterscotch is heated to 270-290'F or 132-143'C; this is called the soft crack stage. The Toffee mixture is heated to 295-310'F or 146-154'C at the hard crack stage.

This delightful combination of butterscotch and toffee flavor will please with a deep textural sweetness that is complemented by the creaminess of butter, roasted almonds, and rich chocolate flavor of this gourmet coffee. Luckily for you, this mouth watering coffee blend can be enjoyed without the sticky gooeyness of melted butterscotch and toffee. Enjoy the delicious indulgence of Butterscotch Toffee Cream flavored coffees anytime you want a little treat.