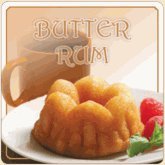 Butter Rum Flavored Coffee
Butter Rum has always been a popular flavor in hot drinks, cocktails, deserts, and sauces for baked goods. Now you can enjoy it anytime with our Butter Rum flavored coffee.

This distinctive coffee blend of velvety warm butter and aromatic rum will be sure to ease your soul and transport you to the tropical isles of the Caribbean.

Enjoy the smooth richness of this coffee's texture enhanced by the caramelized and brown sugars taste with just a hint of spice and a woody accent.

Rum is an alcoholic drink made from molasses and sugar cane juice. The majority of this exotic drink is made in the Caribbean, but it is also made all over the world in parts of South America, Australia, and India. Rum is often associated with the Royal Navy and piracy; it has been reported that in the1800's rum was a British slang term meaning, "the best." Now, without the alcohol, you too can experience the flavor of "the best" in our Butter Rum flavored coffee. Nothing but the best for you!