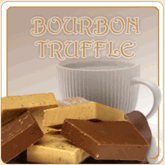 Bourbon Truffle Flavored Coffee
If you happen to be a bourbon enthusiast who also loves chocolate, then this flavored coffee is for you. Bourbon is known to have a great affinity for chocolate. This flavor combination of Kentucky Bourbon and Chocolate Truffle candy will be sure to offer you the sensation of chocolate silk on your tongue with an oaky lingering after a taste of quality bourbon. Just image the creamy flavor of hot fudge engorging your taste buds with just a whiff of vanilla to enliven your coffee cup!

In Kentucky, bourbon, an American whiskey, is not only a drink but also a culture and heritage. When bourbon is used with chocolate, it must be added to cream first. The mixture of cream and chocolate is what the French call ganache and is the base of many candies, particularly truffles. Bourbon Truffle flavored coffee is an experience full of forbidden pleasures without the guilt! Enjoy this sensuous flavored coffee anytime of the day or night.