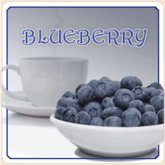 Blueberry Flavored Coffee
America's favorite flavor has now plopped right into your coffee cup! Fresh blueberry flavor is wonderful on its own, but it also enhances the flavor of your gourmet coffee. Your small batched, Arabica gourmet coffee beans will be freshly roasted the day they ship to lock in freshness. Our recipe for Blueberry flavored coffee will offer you an aroma of ripe berries that will draw you to the cup and a sweet and tangy finish that will leave you wanting more. Blueberry flavored coffee is a perfect way to satisfy that craving for sweet blueberries all year long!

Sun kissed sweet and tangy fresh blueberry flavor will entice you over and over again with our Blueberry flavored gourmet coffee. The juicy blueberry flavor isn't meant to cover anything up; we use only 100% Arabica gourmet coffee beans that have been freshly roasted by our in-house Roastmaster. We offer over 120 flavored coffees and blueberry is one of our best sellers because of its "just picked" aroma. Order yours today and see what all the fuss is about!