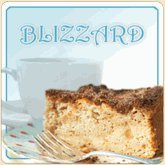 Blizzard Flavored Coffee
Looking to find a little more interesting flavor for that Egg Nog flavored coffee? Would a little splash of flavored Jamaican rum and cinnamon spice suffice? If so, look no further, we've got all the flavors you'll need for this classic treat. But no worries, there's no alcohol and only 2 tiny calories. You don't have to think twice about ravishing this flavored coffee as often as you'd like. So rich and delicious, you may even want to share with a friend. Warm up a cup and let Egg Nog Rum blizzard blow the excitement and joy of the winter season right into your heart any day of the week.

You don't have to wait for Christmas to enjoy the sweet rich goodness of Egg nog. Our Blizzard Flavored coffee has the flavor of eggnog, a splash of rum flavor, and just a hint of cinnamon to make this a delightful treat anytime of the year.

A popular beverage during the winter celebrations, eggnog can be found in almost every home from November to January. The Europeans originally brought this thick, creamy beverage to America in the 18th century. They had always celebrated with eggnog and considered it to be a special occasion drink. The ingredients themselves, namely eggs and milk, were far to expensive for a commoner to have, let alone the fact that they would require refrigeration, which back then was unheard of for the middle and lower-class people. Originally made with brandy and wine, the Americans instead used rum, traded from the Caribbean, to avoid a heavy sales tax.

Since the 1800's, people have been drinking egg nog to celebrate the holidays and Christmas day. In Baltimore, it is tradition for young men to caravan from home to home sampling the family's best eggnog. The first American President, George Washington, had his own recipe for egg nog, it was an intense drink known to separate the men from the boys.

Now statistics show that more and more people are craving the taste of egg nog throughout the year.

Blizzard flavored coffee is the perfect way to sample the mouthwatering taste of egg nog in a manner that couldn't be any easier. No alcohol, only 2 calories…Imagine the fun you'll have enjoying the flavor of eggnog any time of the year!