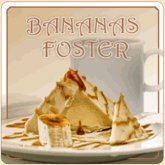 Bananas Foster Flavored Coffee
What an amazing creation chef Paul Blange came up with in New Orleans in 1951. The chef had been challenged to create a new dish using the freshly imported bananas that arrived straight from Central and South America. These bananas were in abundance and were inexpensive to use, a great way to bring freshness and quality to his French Quarter restaurant.

Combining rum, slightly softened bananas, brown sugar, and buttery goodness, this dessert quickly became the most requested item on the menu. Almost 60 years later, 35,000lbs of bananas are flamed each year in the now world famous restaurant. With numbers like that, if you love bananas foster, I'd say you're in good company!
Our Bananas Foster flavored coffee combines the same aroma of the world-famous dessert. Taste the sweetness without all of the calories. Enjoy the added relaxation of the warmth from the coffee, as well as the superiority of the high quality gourmet bean in this coffee that will delight your senses.