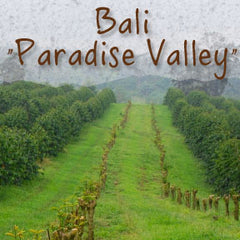 Bali Paradise Valley Coffee
Bali "Paradise Valley" Gourmet Coffee
Indonesia, where Bali is located sits in the natural sweet zone for coffee production. Bali lays about 8 degrees south of the equator and is one of the largest coffee exporters. Despite being part of an island chain, Bali is one of the largest coffee exporters in the world.
The Bean
The beans are grown in the mountains of Bali above the jungle allowing for the hot days and cool nights top coffee requires. Harvesting and sorting is done by hand ensuring the crop does not include discolored, broken, over ripe or poor quality beans. The beans are then allowed to ferment for several days before washed and sun dried.
Taste
This coffee from Bali exhibits typical island character. With an earthy undertone and background, this coffee is lower intensity and a lighter body. The mild character is perfect for those that are not looking for an extremely bold coffee. Despite the mild taste with its lighter roast you get the full caffeine you are looking for.
Back in stock!