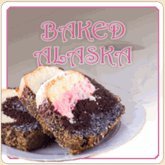 Baked Alaska Flavored Coffee
We had you in mind when we took the flavor of this deliciously sumptuous dessert and made it into a flavored coffee. Now you can enjoy the combination of Baked Alaska flavors with our finest Arabica bean anytime you want. Sound Incredible? Let me remind you that our unique Baked Alaska flavor recipe will allow you to savor a decadent white chocolate mousse, rich double-dutch chocolate, and a taste of wild raspberry. Close your eyes and you can just picture the cold ice cream incased in hot pastry with waves of firm meringue on top.

Since 1802, when Thomas Jefferson was the first to serve cold ice cream wrapped in a hot pastry at a state banquet, we have all enjoyed the mouth-watering taste of Baked Alaska. Now we have it here, for you to enjoy with out the hassle of baking. Don't just take our word for it, go ahead and fall in love with this freshly roasted flavored coffee.